Blog Article The Secrets Behind Dried Flowers Cake Decorations | All InSeason Australia
Author: Ader Broersen Date Posted:15 August 2022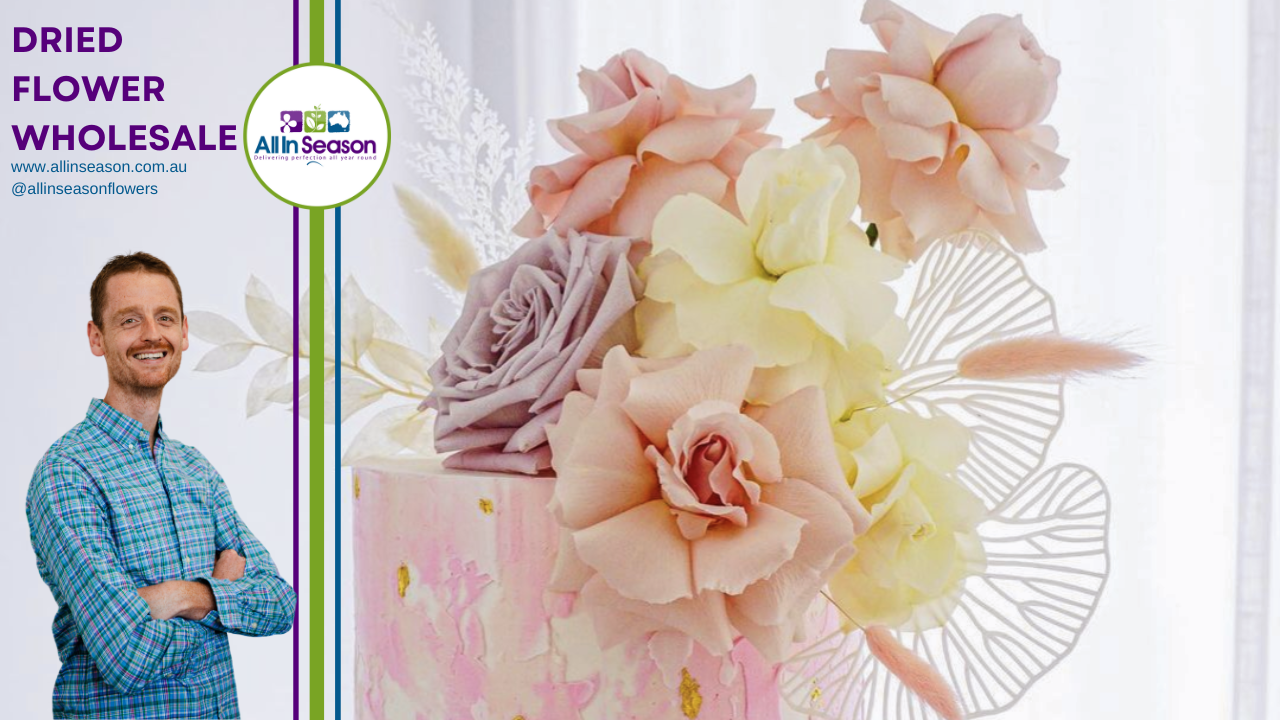 In this article, I will explain the increasing popularity of dried and preserved flowers as cake decoration, discuss safety concerns, and share tips and tricks of renowned cake decorators.
WHY DRIED FLOWERS AS CAKE DECORATION?
The popularity of dried and preserved flowers spreads beyond the more commonly associated businesses like florists, decorators, and event companies. Cake decorators have found the dried flowers, as mentioned in a previous article called 'Boost your dried flower creativity with these 26 ideas' and embraced them for a good reason.
Various cake decorators prefer dried and preserved flowers over fresh flowers, as they won't drop, droop or discolour overnight in the cake as some fresh flowers do. Another benefit is that prepping cakes is a lot easier with dried flowers. While fresh flowers are subject to availability and need to be sourced close to the event date, dried flowers can be ordered well in advance. The fact that there is less possibility of contamination in the cakes is also a deciding factor.
Tip, make sure to store dried flowers in the boxes they arrive in to avoid them getting dusty, which isn't great for cakes.
Dried flowers are perfect cake toppers for various cake events, including weddings, birthdays, christenings, baby showers, and more. At the same time, the most popular products are hydrangeas, palm spears, bunny tails, ferns, roses, and billy buttons.
"Most of my cakes these days feature dried and preserved flowers, people expect it now."@olivejaycakes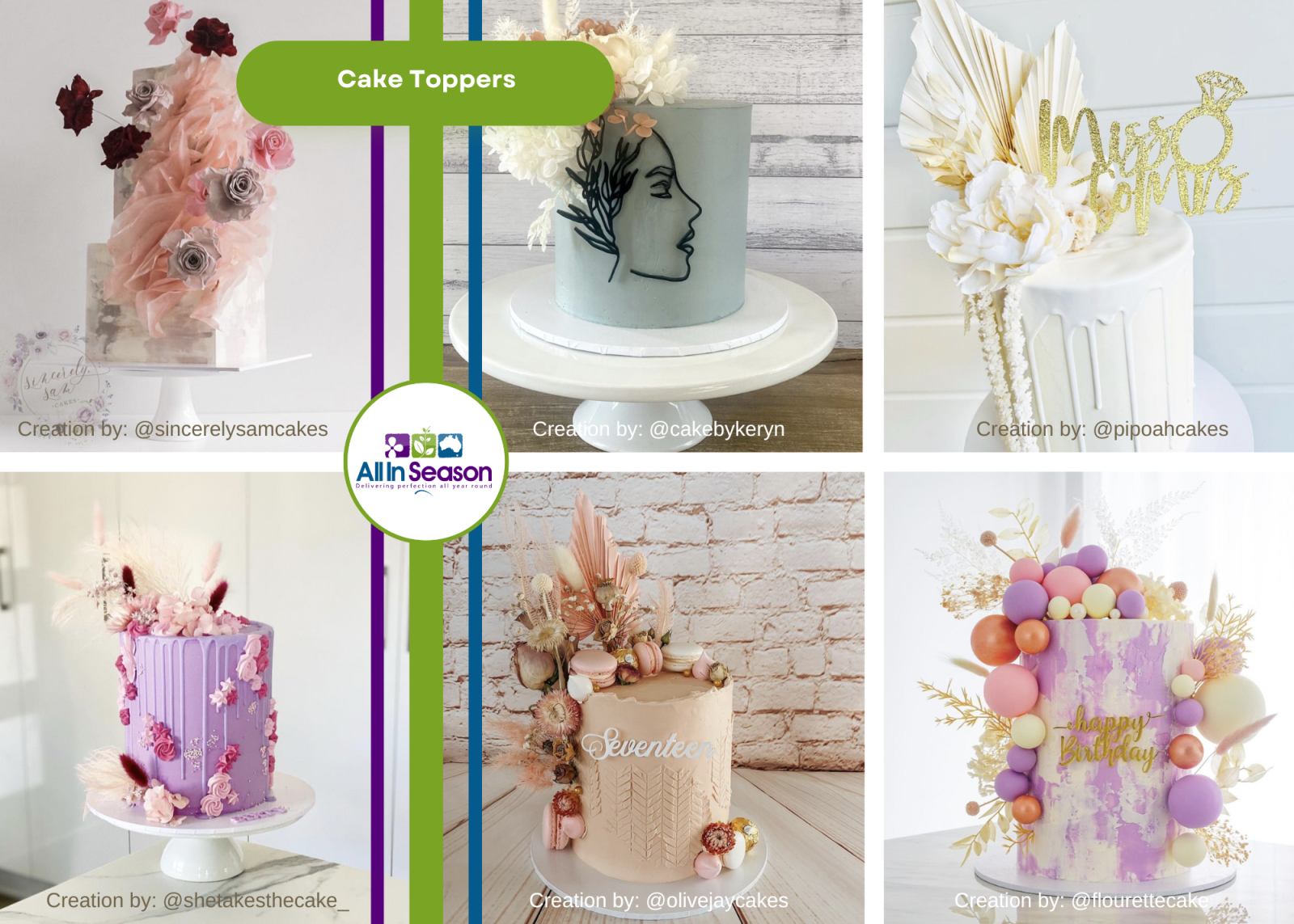 ARE DRIED FLOWERS SAFE TO USE?
This is a frequently asked question from cake decorators, so we did put the question to all our suppliers and asked them how safe they are. As we have often communicated with our customers, generally speaking, they all confirm that they are for decorative purposes only. Interestingly, they also confirmed the trend of dried flowers as cake toppers in other parts of the world.
Our suppliers of preserved mini and mountain fern did want to add they are produced according to the 'EU Safety of toys standard,' in case pets or humans accidentally eat them.
Our South American large petal Hydrangea supplier informed us that "All the materials used on the flowers are non-toxic. We replenish the flowers with 100% natural components and apply colourants used in the food industry. This is a more eco-friendly process and ensures that our flowers are completely safe and healthy". Also confirming they are non-edible, and for decorative purposes only, manufactured with food-grade colourants and non-toxic materials used in the cosmetic industry for skin lotions and others. They also acknowledged that moister is the only issue when they use their preserved Hydrangeas as cake decoration, as they may absorb colourants.
Our European supplier of popular products like palm spears informed us that, while they are non-edible, the materials used are edible glycerine and edible dyes.
Our preserved rose, and carnation supplier Vemeille notified us that the alcohol, glycols, colourants, and other materials used for preserving the flowers are environmentally friendly but are not 'alimentary grade,' meaning not safe for humans consumption.
"Treat them like fresh flowers, wrapping with floral tape is still required to create a barrier."
With this information in mind, it is safe to say that dried and preserved flowers are a great and safe way to decorate cakes, but some caution is required. As one cake decorator told us, 'Treat them like fresh flowers; wrapping with floral tape is still needed to create a barrier.'
Tip, @pipoahcakes told us she uses another trick to create a barrier by dipping them in chocolate!
WHAT SHOULD BE YOUR TAKEAWAYS:
- The confidence that the flowers won't wilt, cake prepping can start in advance, and the fact they are less likely to contaminate brings peace of mind to cake decorators.
- Dried and preserved flowers are safe for cake decoration, but caution is required, as they are non-edible and for decorative purposes only. Creating a barrier between the cake and the flowers is recommended.
WHAT'S NEXT?
- View our complete range of dried and preserved flowers, or check out our preserved Kiara or Vermeille roses, to decorate your next cake!
- Make sure to check out our Instagram page @allinseasonflowers to get inspired with more stunning customer (cake) creations.
- Please do leave a comment. What are your thoughts on dried and preserved flowers as cake decorations? Share some tips and tricks, or let us know what flowers you like to use. We love your feedback and help spread the information with like-minded people. We hope you found this information helpful, stay creative, and take care, your team at All InSeason.
ABOUT THE AUTHOR
Ader Broersen – Ader is Co-owner, Marketing & Sales Director at All InSeason Australia & New Zealand | 20+ years of experience in the agricultural/flower industry both in Holland and Australia with a passion for flowers.
All InSeason Facebook
All InSeason Instagram

World wide delivery
Order before 12pm AEST for same-day pack-out on weekdays.

Order as you like
Large or small, we send them all. Minimum spend $100.-

Easy shopping, 100% online
Please note, we are not set-up for walk in customers and are online only.

Helping your business flourish
Tag @allinseasonflowers with your creations and you could star in our inspiration emails and socials.

Wholesale prices
Enjoy wholesale prices when ordering from All InSeason, all you need is an ABN.