Blog Article, Boost Your Dried Flower Creativity with These 26 Ideas | All InSeason
Author: Ader Broersen Date Posted:11 July 2022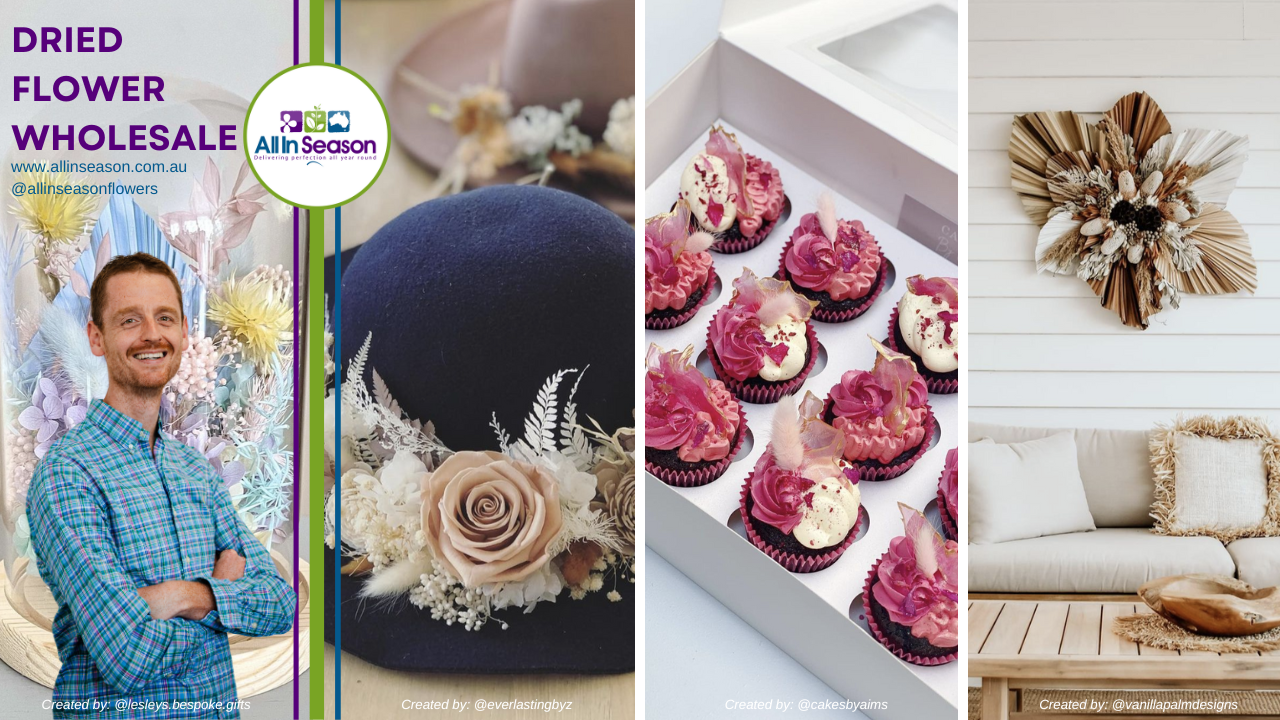 Do you need some inspiration? Do you want your dried flower creations to stand out from the crowd? You've come to the right place! All InSeason is all about promoting and inspiring people to get creative with dried and preserved flowers.
In this article I will list #26 creative ways dried flowers can be used, easily separated into four different segments; Gifts, Weddings, Art & Crafts and Decoration.
Gifts:
In 2015, the Floral Dome was the most common way you would find preserved roses. All based on the movie 'Belle and the Beast', and the scene where Belle found the enchanted rose. Now, fast forward to 2022, the range of dried & preserved flower creations has expanded drastically. While the floral dome is still very popular, there are different ways the dried & preserved flowers are gifted and presented nowadays.
DRIED FLOWER GIFT IDEAS:
1. Floral dome, a classic single preserved rose presented in a glass dome. Where the single preserved rose dome is still enormously popular, the look has changed, as the availability and range of dried flowers increased in recent years. If you are looking for DIY tips on how to make your floral dome, please check out the video from our very own experienced florist Kelly, "How to make a mini dome with dried flowers".
2. Flower basket, isn't this the way to gift flowers? Who wouldn't be happy getting a basket full of everlasting dried flowers?
3. Hampers usually contain chocolate, drinks, snacks or beauty products. But the dried flower flowers are now regularly gifts in Hampers.
4. Bouquets, what flower shop doesn't have a section with dried flower bouquets these days? Not too many, right? It's truly a must-have for every florist, for example for Sonya from Redcliffe City Florist. Here Sonya talks about how dried and preserved flowers are increasingly important for her business.
5. Flower arrangements have always been popular for fresh flowers, but the everlasting arrangements certainly have found their place in the flower industry.
6. DIY dried flower arrangement kits are becoming more and more common. Many people love to create flower arrangements, and many florists are capitalizing on this by offering DIY dried flower kits with handy How-to tips.
Looking for Dried Flower DIY Tips & Tricks? Check out our YouTube videos.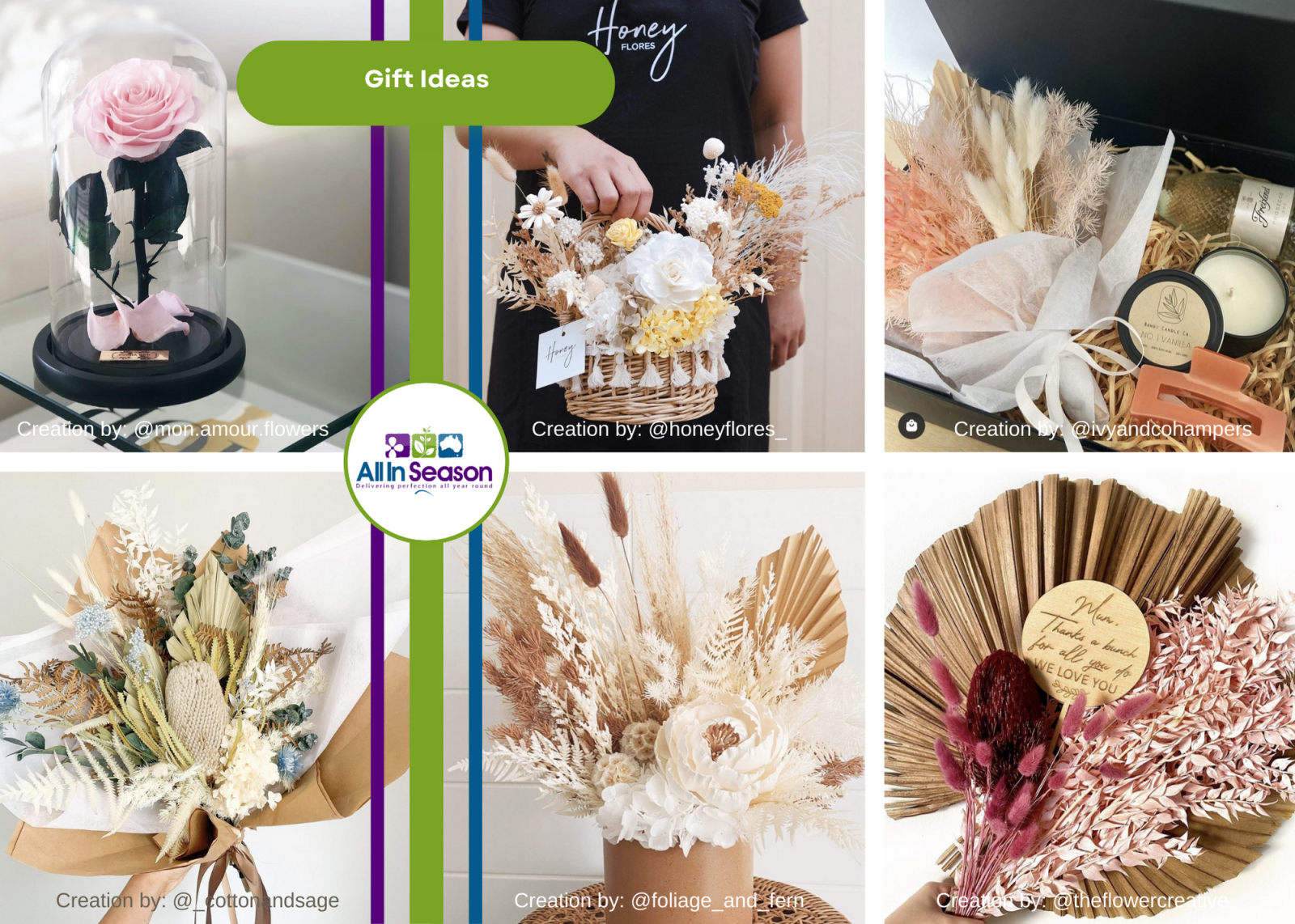 Weddings:
Dried and preserved flowers are super popular for weddings. Lots of florists incorporate dried and preserved flowers in their wedding arrangements, not only because they look stunning, but also because many brides would like to keep their florals as a lasting reminder of the big day. This doesn't mean they can't be used in combination with fresh flowers, they sure can! It's all about getting creative.
Keep in mind that dried flowers are still subject to seasonal availability. They are real flowers and therefore not always available year-round. We highly recommend, that if you found something you like, don't wait, simply get it and store it in a dry place out of direct sunlight, so you have what you need for the big event.
DRIED FLOWER WEDDING IDEAS:
7. Wedding bouquets, and bridal party bouquets, are always an attention grabber at weddings. And now with the dried flowers, they are a lasting memory and are therefore becoming increasingly important.
8. Corsages are, after the wedding bouquet, the one most commonly used. We all know the standard corsages, but wrist corsages are gaining popularity.
9. Table arrangements, are perfect to style and create the required atmosphere. Just remember don't make the arrangements too high, as guests still need to be able to see each other!
10. Backdrop's come in different ways, but most commonly they are used to create a great a great photo opportunity, not only for the bride and groom but also for the guest.
11. Cake topper. Cake designers have certainly found the dried and preserved flowers. Everlasting roses are a symbol of love, and an easy product to use. Especially when the roses are reflexed, creating an instant wow factor. Often uses in combination, but not limited to, Bunny tails or preserved Ruscus. (!) Please remember, that dried and preserved flowers are not edible and are for decorative purposes only.
12. Welcome signs, decorated with beautiful dried flowers, are a nice touch to welcome the guests to the venue. It's also a perfect way to show your personality as a couple, so don't be afraid to make it a bit quirky!
13. Wedding Arch. This is most commonly used during the ceremony, and creates a beautiful setting, (and perfect photo opportunities), where the couple can say their "I Do's".
14. Flower crowns are perfect for bridal parties, but are just as good to use on race day, festivals or events.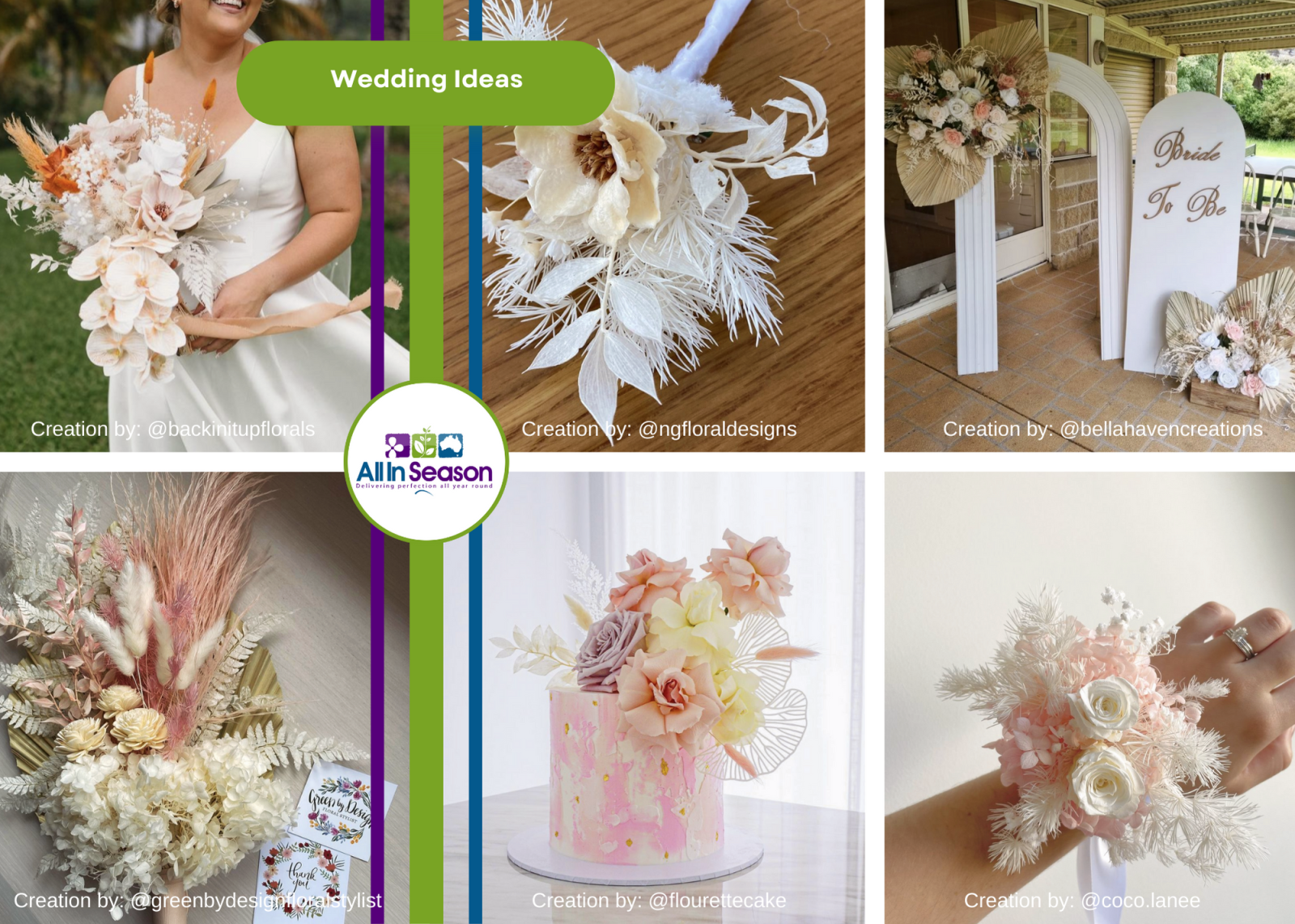 Art & Craft
You have your mainstream creations, but then some people and companies take an idea just a little further, just a little different. It might not always be everyone's style, but it certainly raises eyebrows, creates awareness and gets people talking.
"Creativity is just connecting things. When you ask creative people how they did something, they feel a little guilty because they didn't really do it, they just saw something. It seemed obvious to them after a while." — Steve Jobs
DRIED FLOWER ART & CRAFT IDEAS
15. Cards, decorated with dried flowers, are a great way to stand out from the crowd and will impress the receiver for sure.
16. Gift wrapping with dried flowers is another way to impress any receiver, it's a gift upon a gift!
17. Framed flowers can be used in many different ways. Think for example as a thank you gift for wedding guests, a wall piece to frame a picture, or just simply to display stunning dried flowers. #getcreative
18. Wreaths come in many shapes and forms. While the dried flowers used to make them keep changing, the technique on how to make them stay the same. Learn how to make one here.
19. Hat pieces are great, just like the flower crowns, to make an impression, especially when you are at the races!
20. Flower wrapping is a great way to present your flowers. Let your creativity go wild. It's not always only about the flowers, wrapping creatively will most definitely add value.
21. Mirror art. Have you ever thought about creating mirror art by decorating a mirror with dried flowers? Master florist Marco Appelfeller has certainly done this and is an expert in floral design and standing out from the crowd!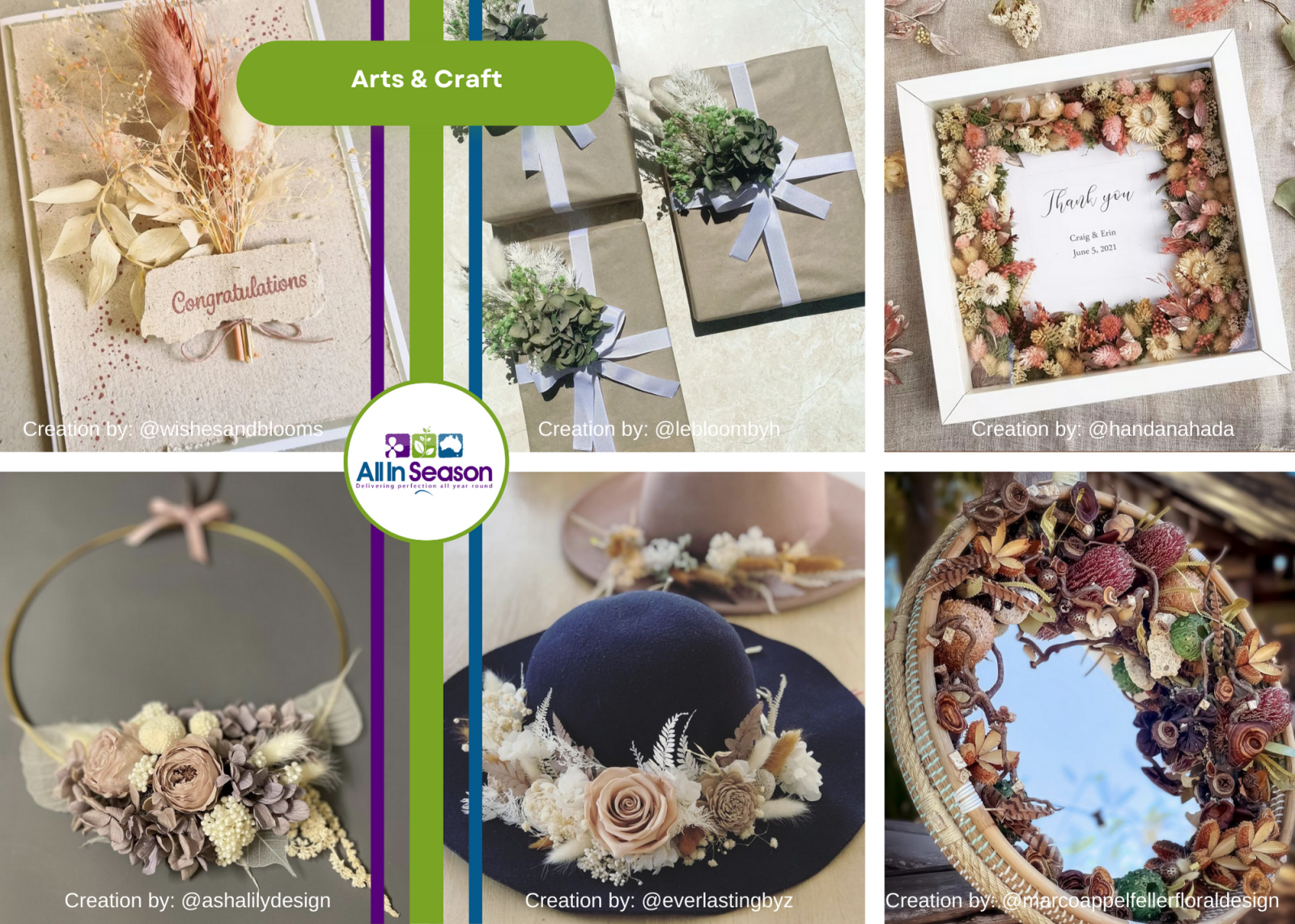 Decoration
Decorating your home, shop or office with dried flowers is a great way to bring a space to life to enjoy flowers indoors all year round, in a more sustainable way compared to fresh flowers. There are lots of ways how you can style and decorate, here are just a few ideas;
DRIED FLOWER DECORATION IDEAS
22. Moss walls are proven to have a calming effect on people. They look stylish in hotels. offices, and in homes and also help to absorb noise. Apart from all those benefits, it also just simply looks amazing. Check out our preserved moss range here.
23. A home wall piece is an absolute stand-out feature in any home. A painting or a dried flower wall piece, what's your choice?
24. Table pieces for decoration purposes can be larger, and don't need to be low like the table arrangements mentioned before in the wedding section. This is a statement piece and can be big and bold!
25. Home styling. You don't always need a big mixed arrangement. Sometimes a simple vase and a bunch of dried flowers are all you need.
26. Shop, Retail & Restaurant decorations feature more and more dried and preserved flowers. Both as wall pieces and as window displays. Low maintenance and everlasting flowers are the key reasons you see them in shops around the world.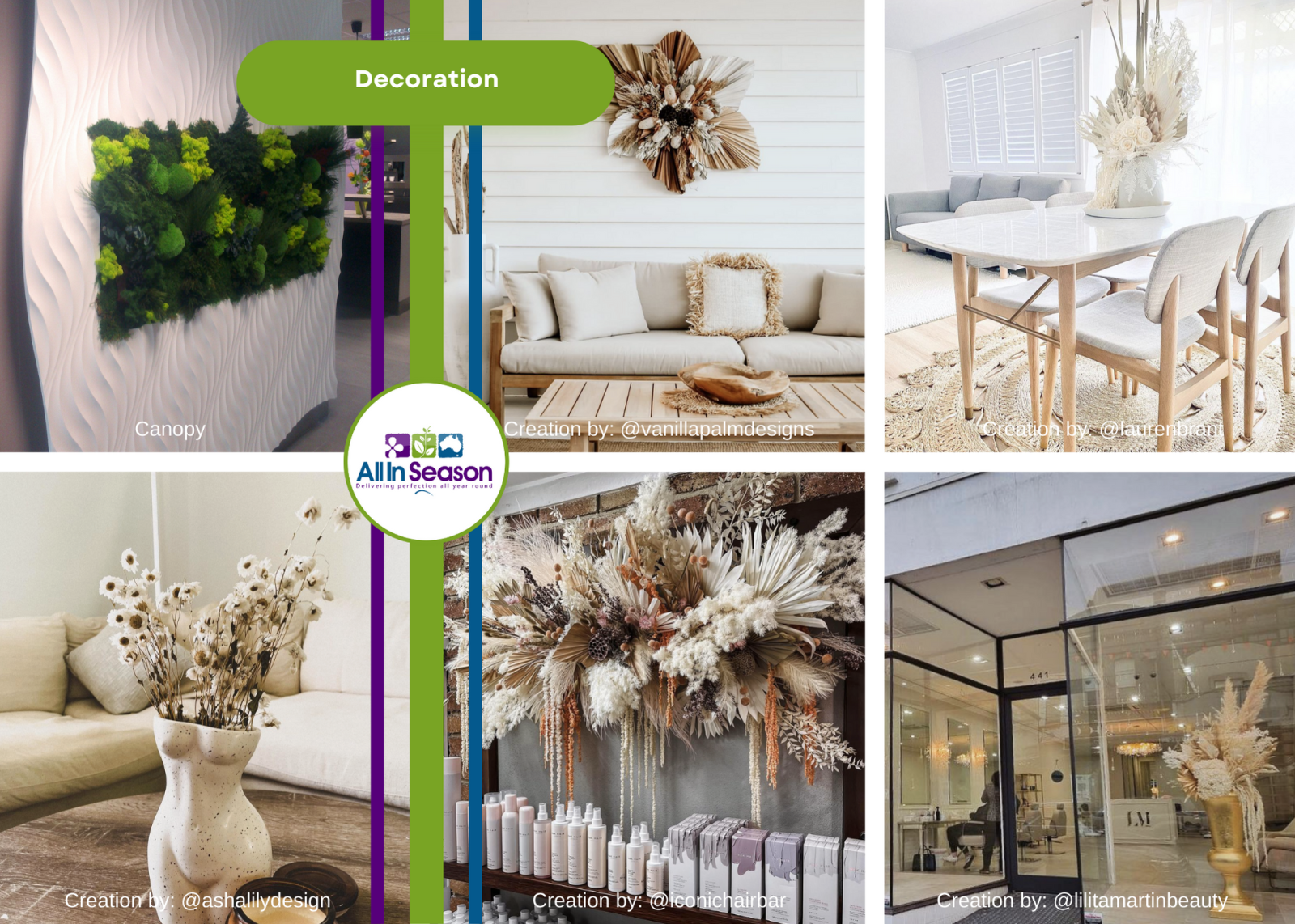 Creativity & inspiration
The two key ingredients are creativity & inspiration. See what other people are making, follow different floral designers and decorators & utilize 'How To' videos on YouTube. It's also important to see what's happening in other countries, what colours, products or different styles are used.
These days with social media, it's easier than ever to get inspiration. We know you have the creativity, and we have the dried flowers. Let's make it happen!
WHAT SHOULD BE YOUR TAKEAWAYS?
There is no end to the possibilities with dried and preserved flowers.

Make sure you look for inspiration overseas. People from other countries have often different styles and ideas and might help you to design creations to stand out from the crowd.

If you want to decorate your space more sustainably, dried flowers are the way to go.
WHAT'S NEXT?
Make sure you continue to tag our Instagram @allinseasonflowers with your creations, and you could star in our inspiration emails & socials.

Have a look at our complete dried flower range here.

Please do leave a comment! What have we missed? What cool creation did you make or find? Where do you get your inspiration from? We would love to hear your thoughts and we hope you found this information useful.
ABOUT THE AUTHOR
Ader Broersen – Ader is Co-owner, Marketing & Sales Director at All InSeason Australia & New Zealand | 20+ years' experience in the agricultural/flower industry both in Holland and Australia with a passion for flowers.
All InSeason Facebook
All InSeason Instagram
---
Leave a comment