Blog post: Dried Flowers, Rural And Remote Flower Business Expert Interviews
Author: Ader Broersen Date Posted:25 January 2023
Running a rural and remote flower business requires a different approach than an urban flower business. Because we supply many companies in remote areas, we decided to ask them about their challenges and opportunities. Their answers to 5 simple questions will give you and experts insight into what it takes to run a rural and remote flower business.
The experts:
Question 1 | What challenges do you have to overcome concerning sourcing products and suppliers?
Roxanne (QLD); At Hey Posy, we rely solely on ordering online from our wholesalers - often through their websites or over the phone. Not seeing products in person is always tricky as you never really know exactly what will arrive size and colour. Shipping adds costs, and delivery times can also vary. As a new retail business, our cash flow is unpredictable, so we often rely on making smaller orders more frequently.
Olivia (NSW); The cost of shipping as well as the time delays sometimes. It can take 3-7 days for products to arrive, and sometimes I would love a local supplier that is on hand if I need something that day.
Kelly (SA); The time factor is the main challenge we face being a remotely located business.
Samantha (NT); Transport timeframes can be tricky when couriers have delays. COVID, floods, and other natural disasters can hinder operations.
Sara (WA); There are many disadvantages to owning a remote business; the biggest challenge is usually access. We can't pop down the road to grab an item we don't have. There aren't suppliers in the next suburb or a companion florist to call upon, so we learn to be super organized, and our customers also have to understand this. Knowing what our customers want is a balance. Sometimes we don't have what they want, and receiving orders from regional Western Australia can take weeks. Sometimes our customers are unhappy, and if they walk away without the item they need, they'll be tempted to support an online/city business instead. Our most recent challenges are train derailments between the East and West - delaying orders for a further 2-3 weeks. When you pay upfront for these items and cannot see an immediate return, this impacts cash flow.
Olivia's Tip: Find your niche and stick to it!
Question 2 | What are the differences between urban and rural-based businesses in relation to customers and promoting your business?
Roxanne (QLD); Many of our customers find us through word of mouth, or they've attended weddings we have done or received a gift from our shop. We have a strong social media presence also.
Olivia (NSW); City-based businesses generally have more exposure.
Kelly (SA); I have recently moved out even further and no longer have a shopfront; however, it's not affecting my business, as we do weddings.
Samantha (NT); When promoting rural, people tend to lean towards community living, which is opposite to the hustle and bustle of the city.
Sara (WA); Our customers are usually a broader demographic in age and location, and we need to accommodate different requirements, from a modern style to a more traditional arrangement. We can't be as selective in what we offer; therefore, our skillset must be wide, and brand advertising must be broader.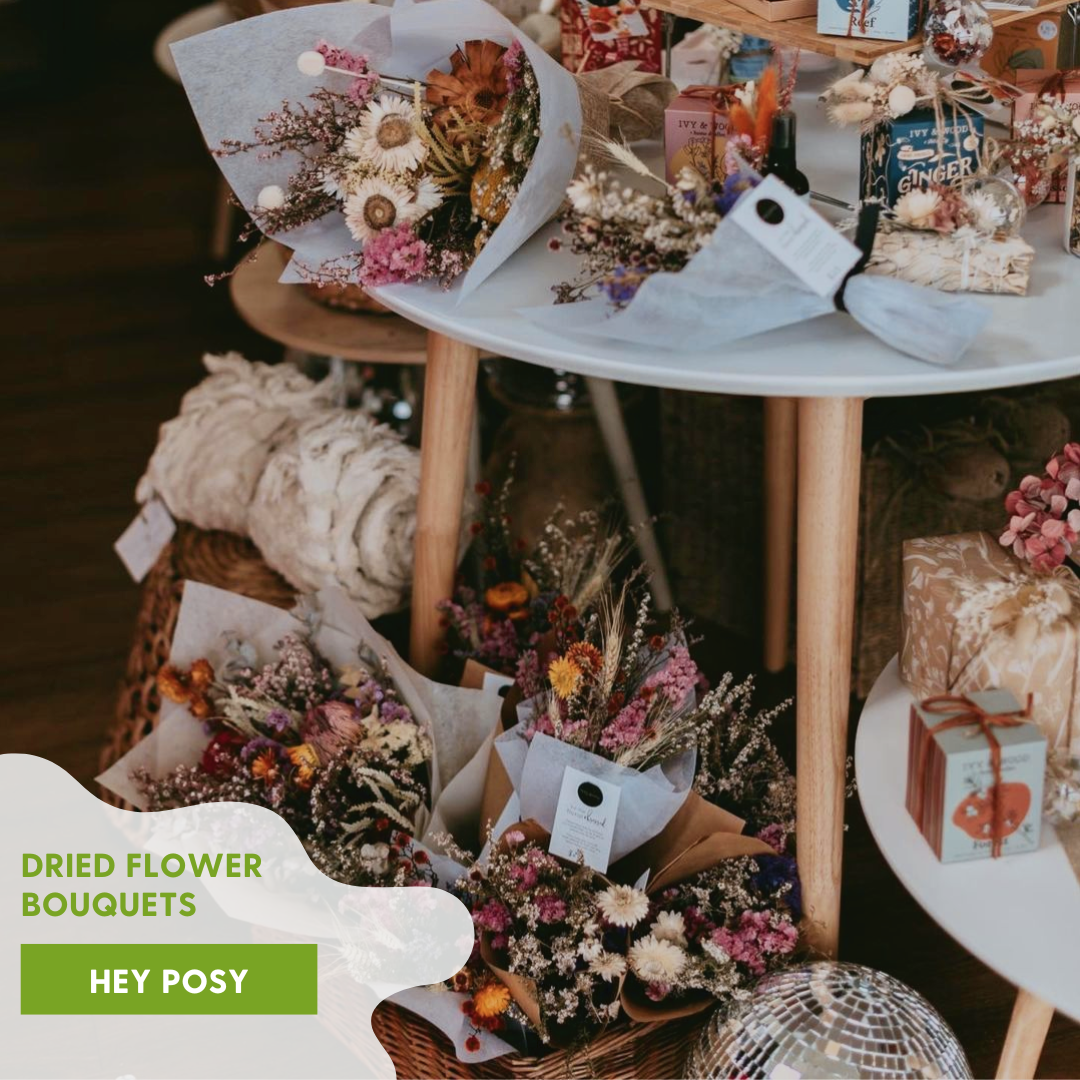 Sara's Tip: Buy bulk and make sure you have ample storage. Unify your range to make bulk buying easier and just simply be prepared.
Question 3 | What role play dried & preserved flowers play in your business?
Roxanne (QLD); Before opening our retail shopfront at the end of 2021, our business was solely weddings and event florals based on about 90% fresh flowers and 10% dried/preserved work. In our shopfront, however, we have embraced the dried trend wholeheartedly, and dried, and preserved flowers make up most of our retail sales. Our weddings remain primarily fresh. However, we are definitely producing more dried floral work there, also. Focusing the retail side of our business on dried/preserved was a conscious decision for our first year of opening our shopfront. It has allowed us to find a niche in a town of many florists, and it posed less risk financially (not losing stock if it doesn't sell). Workshops focusing on dried/preserved florals have also played a big part for us!
Olivia (NSW); They are the whole of my business. I create products using them daily.
Kelly (SA); Dried, preserved & faux flowers account for 90% of my business.
Samantha (NT); We promote dried and preserved flowers as part of our sustainable eco-living here at Woodwicks and Wildflowers. With fresh flowers, why pick and buy them? Save them for our ecosystem. Why spend $$ every year when you can invest in a set of dried & preserved flowers that are low on maintenance, non-toxic, and sit gorgeously on display for years to come?
Sara (WA); As we offer a diverse range of floral arrangements, we also provide preserved and dried arrangements. These are very popular, and we can have them pre-made and on the floor - Not that they are there long :)
Roxanne; Dried & Preserved flowers pose less financial risk

Question 4 | What product lines work well for your business?
Roxanne (QLD); We use a great mix of both dried and preserved flowers. We've recently started purchasing premade dried bouquets to use as a base for larger bouquets, and Australian dried natives are always our go-to products!
Olivia (NSW); Misty, also known as Limonium, and Hydrangeas are staples for me.
Kelly (SA); High-end quality faux, with preserved. Ruscus, Ming Fern, Billy Buttons & Bunny Tails. Pampas Grass, or a similar look, would be good, given that South Australia is not allowed to have it.
Samantha (NT); All eco-friendly and sustainable items align with our industry.
Sara (WA); We love the preserved roses, hydrangeas, ferns & palms.
Kelly's Tip: Love what you do, love what you sell, show it, tell it to the world and don't worry about where you are located.

Question 5 | What would you say if you could describe All InSeason in one sentence?
Roxanne (QLD); Good quality products, easy to purchase, and quick delivery turnarounds.
Olivia (NSW); Amazing range with great email customer service!
Kelly (SA); Good quality, pricing, packaging, prompt & friendly.
Samantha (NT); Well priced, friendly service, always in stock!
Sara (WA); Our favourite place to buy all our preserved florals. All in Season are easy to work with and will go beyond to help us get what we need.
Samantha's Tip: Keep going, and be open to trying new things. Don't listen to the naysayers; they only make up a fraction of the market.
CONCLUSION
Shipping cost and delivery time are significant factors in how and where to buy flowers for rural and remote businesses. Dried & Preserved flowers are used in multiple ways. From wedding florals to dried bouquets and workshops. They help companies stand out from the crowd and pose a less financial risk because you are not losing stock if it doesn't sell. Favourite products differ for each floral business based on location and local restrictions.
HELPING YOUR BUSINESS FLOURISH
Tag @allinseasonflowers with your creations, and you could star in our inspiration emails and socials.
ABOUT THE AUTHOR
Ader Broersen – Ader is Co-owner, Marketing & Sales Director at All InSeason Australia & New Zealand | 20+ years of experience in the agricultural/flower industry both in Holland and Australia with a passion for flowers.
All InSeason Facebook
All InSeason Instagram
---
Leave a comment