Five benefits of dried and preserved flowers.
Author: Ader Broersen Date Posted:5 June 2023
This article will list the five main benefits of using dried & preserved flowers.
#1 - ZERO WASTAGE
With dried and preserved flowers, there's no wastage! You can reuse them for different occasions, repurpose them for crafts, or simply enjoy their everlasting beauty in your home. It's an eco-friendly choice that helps reduce waste and promotes sustainability.
#2 - EARLY PREPARATION
You can start preparing your orders well in advance with dried and preserved flowers. No more last-minute stress!
#3 - EXTEND THE SELLING WINDOW
Didn't you sell all your flowers this week? No worries! Dried and preserved flowers can be stored and sold the following week without any loss of quality. It's a win-win situation for both your business and customers.
#4 - NO HEAT HASSLES
Unlike fresh flowers, dried and preserved blooms won't go off in the heat. They retain their beauty, allowing you to create stunning displays even during scorching summers confidently.
#5 - MIX AND MATCH
The best part? You can mix dried and preserved flowers with fresh ones, creating larger and more elaborate arrangements. This opens up endless creative possibilities and enables you to offer stunning designs at a more economical price point.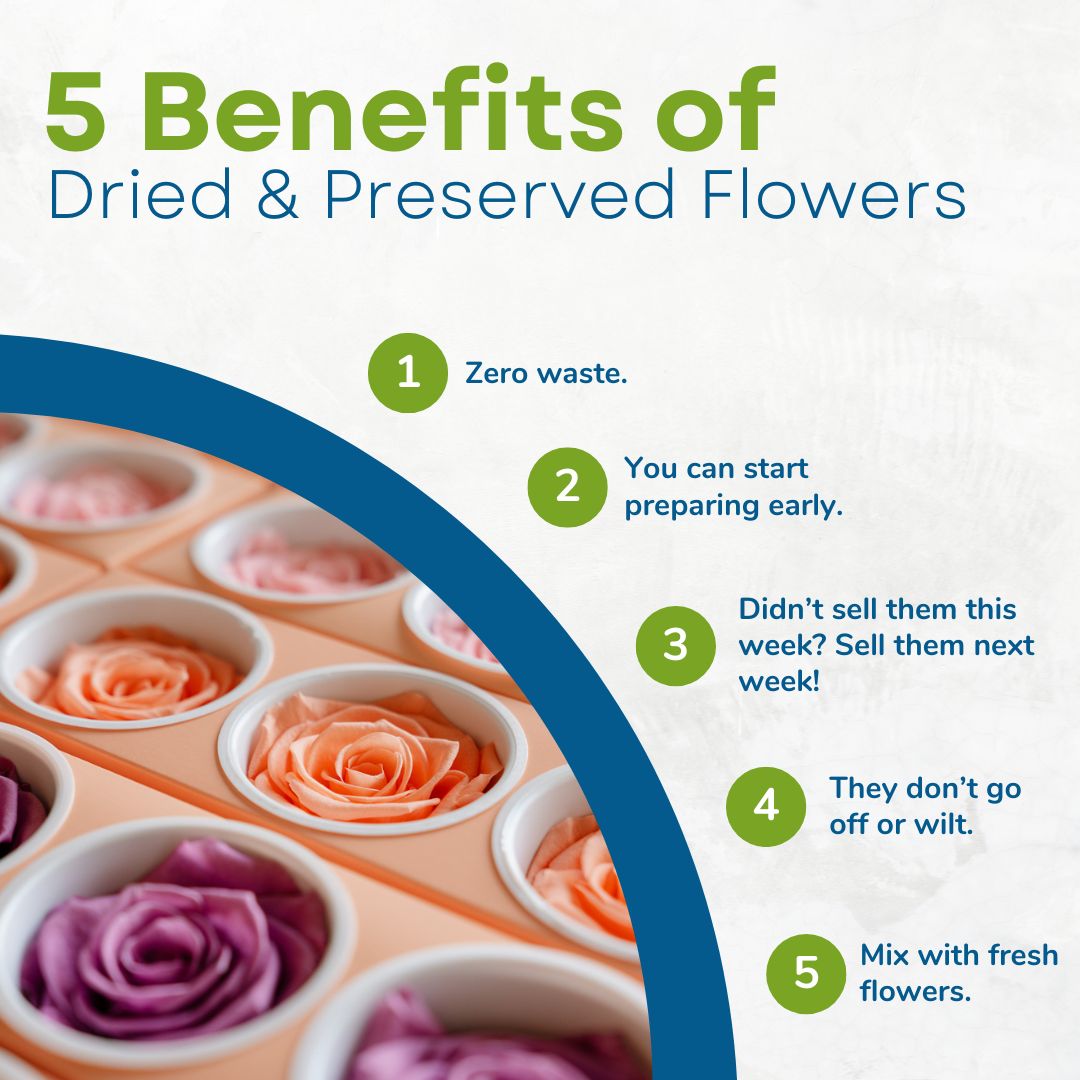 WHAT DID I MISS?
What is your reason for using dried & preserved flowers? Did I miss one? Please let us know in the comments below.
CREATE A FREE WHOLESALE ACCOUNT NOW
400+ 5-star Trustpilot reviews can't be wrong, open a free wholesale account and join thousands of smart registered buyers at www.allinseason.com.au. All you need is an ABN. Order before 12 pm AEST for same-day pack-out on weekdays.
ABOUT THE AUTHOR:
Ader Broersen – Ader is Co-owner, Marketing & Sales Director at All InSeason Australia & New Zealand | 20+ years of experience in the agricultural/flower industry both in Holland and Australia with a passion for flowers.
All InSeason Facebook
All InSeason Instagram
---
Leave a comment