Australian-Made Licence Approved
Author: Ader Broersen - All InSeason Australia Date Posted:27 July 2023
We are happy to announce that All InSeason Australia has obtained the Australian Made Licence for our Australian Dried Ready 2 Go bunches, Dried Banksia's, Dried Tea Tree, Dried Nitens and Dried Pampas. (updated 4/8/2023)
AUSTRALIAN DRIED FLOWERS
One of the most popular dried & preserved flower categories on our website is the "Australian" page. This page lists all of our Australian-grown flowers.
Because our 'Ready 2 Go bunches' (also known as Australian Dried Native Bouquets) and 'Dried Banksias' are always in high demand and available almost year-round, we applied for the Australia Made Licence and got approved! Update 04/08/2023; In addition, our Niten, Tea Trea and Pampas is now also licensed to display the renowned Australian Grown Logo.
It's important to know that everything on the "Australian" category page is Australian-grown.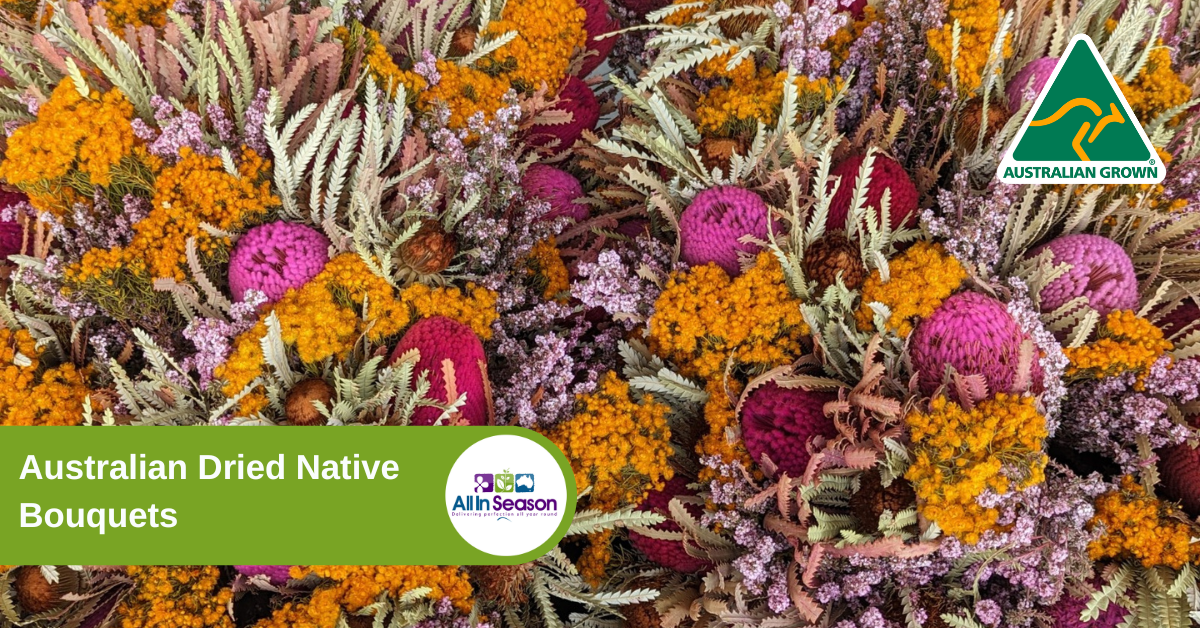 Love Local? So do we!
AUSTRALIAN MADE LISTING
The famous Australian Made, Australian Grown (AMAG) logo is the true mark of Aussie authenticity, and we are proud to be listed on the Australian Made website. It is Australia's most recognized and trusted country of origin symbol, underpinned by a third-party accreditation system, which ensures products that carry the logo are certified as 'genuinely Australian.'
ADVANTAGES OF AUSTRALIAN DRIED & PRESERVED FLOWERS
If you want to discover the advantages of incorporating Australian dried and preserved flowers in your business, we'd love to share more information with you. Don't hesitate to get in touch with us to learn more.
FUN FACT; Most (93%) Australians have a preference for Aussie products.
ABOUT THE AUTHOR
Ader Broersen – Ader is Co-owner, Marketing & Sales Director at All InSeason Australia & New Zealand | 20+ years of experience in the agricultural/flower industry both in Holland and Australia with a passion for flowers.
---
Leave a comment